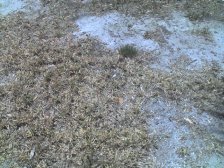 We live in Sarasota, Florida where we experience droughts and floods. Our summer rainy season is either in short supply or in abundance. When the afternoon rains do not prevail, the scorching sun dries out all the vegetation. Lawns turn brown, flowers wilt, and the water table recedes with imposed water restrictions. When it's dry, it's very dry.
In contrast, when the afternoon thunderstorms are prevalent we view a very different creation. The grass is green and grows frantically. Many times we have to cut our lawn twice a week. Plants, flowers and weeds grow profusely. When it rains, it is wet!
In our spiritual lives we all experience droughts. Our time and experiences with God are in short supply. When the fresh rains of God's presence don't prevail we dry out. Our hearts wilt, our hope fades, our love withers, our faith runs in short supply.
When we're in a spiritual drought we need the fresh rains of God's presence. It takes time in worship to experience God's refreshing of our souls. It takes time in prayer seeking His heart to have our love for Him flourish. And, it takes time in God's Word to satisfy the thirsty and fills the hungry with good things.
Lesotho has experienced a physical drought. Crops are scarce and the consequences are life threatening. But, nothing is more eternally threatening than their spiritual drought. We are asking God to pour His refreshing rains over Lesotho.
For only God can say:
The Spirit and the bride say, "Come!" And let him who hears say, "Come!" Whoever is thirsty, let him come; and whoever wishes, let him take the free gift of the water of life. Revelation 22:17