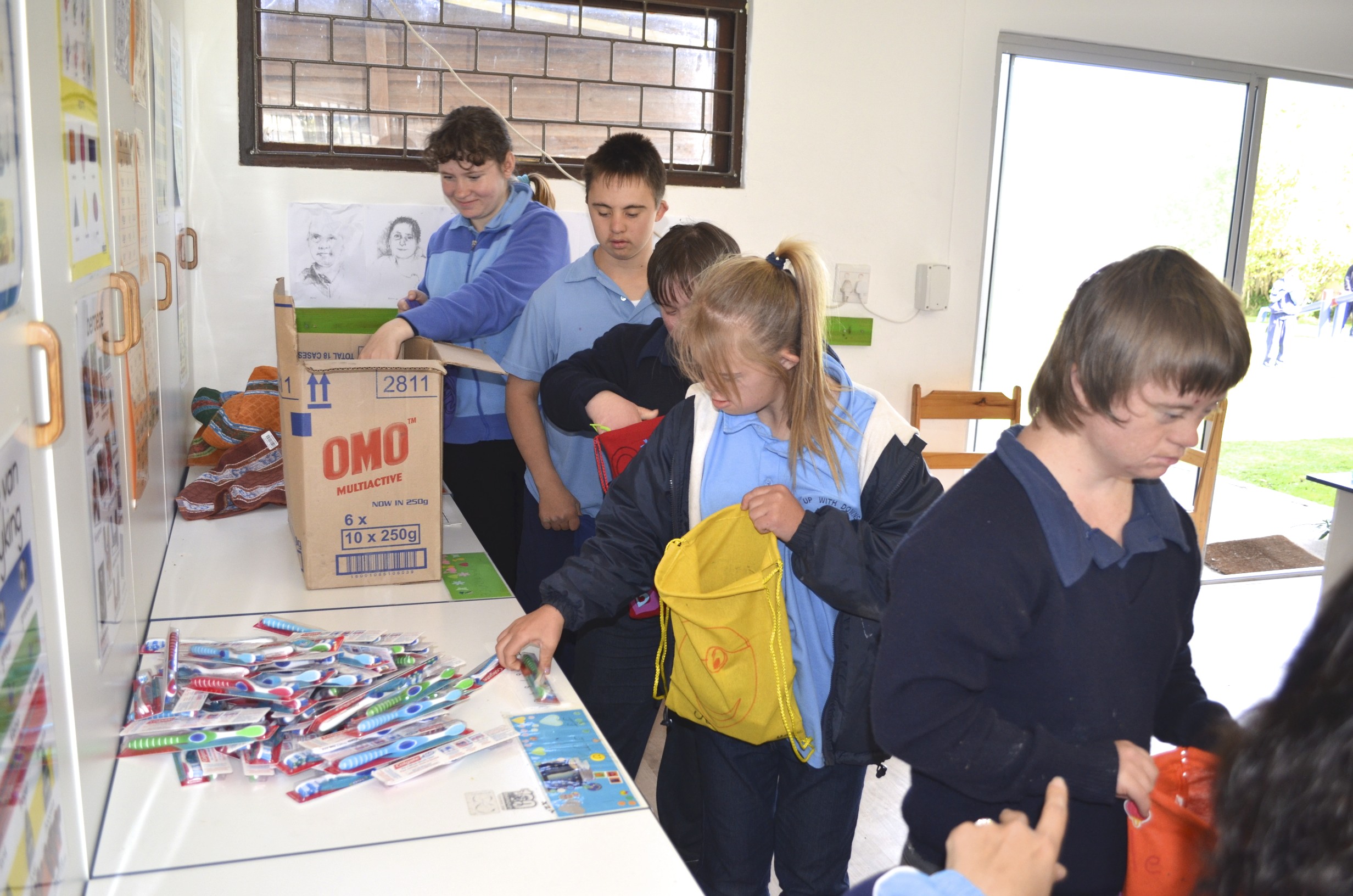 We are so thrilled about the impact of this year's Christmas packs! All of the supplies needed to provide toiletry bags for each child involved in our Lesotho Bible study were purchased in South Africa. That's 100 packs that will be handed out this Christmas!!! Each pack consists of toothbrush, toothpaste, soap, deodorant, shampoo, face cloth, Vaseline, and a special treat for each child to enjoy.
The students at Up with Down's  (a centre for special needs learners in South Africa) that we have partnered with, have eagerly finished packaging all 100 Christmas packs. During the packaging the kids were running from one station to the next gathering all the supplies needed to put together each pack. They were so excited about the project they were accomplishing and delighted to play a part in giving back to others.
This project along with our partnership with Up with Down's was recently featured in the South African newspaper. Check out the article:  Here 
Now that the packaging has been completed, Mike along with two students from Up with Down's, their parents and a grandparent will distribute the Christmas packs to the kids in Lesotho during our annual Christmas Braai on December 8th.
This will truly be a joyous occasion as the two students from Up with Down's will be able to experience first-hand the fruit of their labor. We can't wait to see the satisfaction on their faces as they realize the impact they have made on the life of another child. In addition, we look forward to blessing the children in Lesotho with these gifts. We hope that through this gift giving process we are able to share a touch of Christ's love to each person involved. Thanks for making this project a beautiful reality! We will share more of this experience with you after our Christmas Braai on December 8th.
~Anchor Your Life
In addition to the Christmas packs, the students at Up with Down's recently finished packaging all of the contents for 2,000 school packs which will be distributed to needy students in both Lesotho and George, South Africa. More updates will be shared on this project as we draw closer to our distribution date in early 2013.
Make a secure online contribution that will help us help children in Africa.