Yesterday was wonderful. Me Rose, has helped us each day. She has acted as our translator when the Basotho (native to Lesotho) people have spoken Sosetho (their native language). Under Me Rose's guidance along with the help of 2 other women who live in the village, we headed to a public school.
All students in public schools are required to wear school uniforms which are provided by the government. We saw many torn and tattered uniforms. As we arrived we were mobbed by students that were at recess.

We were there to help the neediest of the needy, one of which was a girl who could not speak. She is 1 of 4 children living with her aunt and uncle (unemployed) in a 3 room house – 9 people in total. When we arrived she would not smile, but that changed quickly as she received the many items that had been hand-picked for her.

Later we had the opportunity to visit her home and meet her aunt. I know that we can't even make a dent in the HUGE problems, but we could brighten a very hopeless life for a brief time.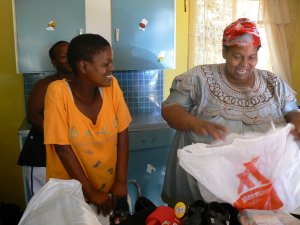 We came to share the Word of God and extend material need to some of the poorest. I am praising God for the opportunity He gave us. He truly has given me a heart for the people of Lesotho. It has been heart-breaking at times, but I am convinced that the message we share transcends cultures and transforms lives! Join me today in praising Him for His abundant blessings…and for the work He has done in Lesotho through us.