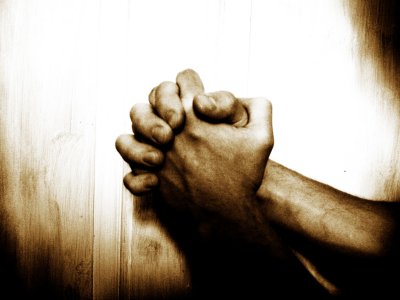 They devoted themselves to the apostles' teaching and to the fellowship, to the breaking of bread and to prayer. 43 Everyone was filled with awe, and many wonders and miraculous signs were done by the apostles. 44 All the believers were together and had everything in common. 45 Selling their possessions and goods, they gave to anyone as he had need. 46 Every day they continued to meet together in the temple courts. They broke bread in their homes and ate together with glad and sincere hearts, 47 praising God and enjoying the favor of all the people. And the Lord added to their number daily those who were being saved. (NIV) Acts 2:42-47
The early church "devoted themselves to the apostles' teaching and to the fellowship, to the breaking of bread and to prayer." Commentators have debated about what "the breaking of bread" entailed. Some suggestions are a type of Jewish fellowship meal, or an agape feast. Undoubtedly, the time emphasized the joy of communion with the risen Lord and of fellowship with one another. It was most likely an occasion for joy, love, and praise because it was connected with Jesus.
Luke also tells us that the first century church devoted themselves to prayer. He makes frequent references to prayer in the early chapters of Acts:
They all joined together constantly in prayer, along with the women and Mary the mother of Jesus, and with his brothers. (NIV) Acts 1:14
Then they prayed, "Lord, you know everyone's heart. Show us which of these two you have chosen (NIV) Acts 1:24
When they heard this, they raised their voices together in prayer to God. "Sovereign Lord," they said, "you made the heaven and the earth and the sea, and everything in them. (NIV) Acts 4:24
So the Twelve gathered all the disciples together and said, "It would not be right for us to neglect the ministry of the word of God in order to wait on tables. Brothers, choose seven men from among you who are known to be full of the Spirit and wisdom. We will turn this responsibility over to them and will give our attention to prayer and the ministry of the word." (NIV) Acts 6:2-4
Paul writes much on prayer:
In the same way, the Spirit helps us in our weakness. We do not know what we ought to pray for, but the Spirit himself intercedes for us with groans that words cannot express. (NIV) Romans 8:26
Be joyful in hope, patient in affliction, faithful in prayer. (NIV) Romans 12:12
I pray that out of his glorious riches he may strengthen you with power through his Spirit in your inner being, so that Christ may dwell in your hearts through faith. And I pray that you, being rooted and established in love, And pray in the Spirit on all occasions with all kinds of prayers and requests. With this in mind, be alert and always keep on praying for all the saints. (NIV) Ephesians 3:16-18
In all my prayers for all of you, I always pray with joy (NIV) Philippians 1:4
And this is my prayer: that your love may abound more and more in knowledge and depth of insight, (NIV) Philippians 1:9
Do not be anxious about anything, but in everything, by prayer and petition, with thanksgiving, present your requests to God. (NIV) Philippians 4:6
We always thank God, the Father of our Lord Jesus Christ, when we pray for you, (NIV) Colossians 1:3
Devote yourselves to prayer, being watchful and thankful. And pray for us, too, that God may open a door for our message, so that we may proclaim the mystery of Christ, for which I am in chains. Pray that I may proclaim it clearly, as I should. (NIV) Colossians 4:2-4
Night and day we pray most earnestly that we may see you again and supply what is lacking in your faith. (NIV) 1 Thessalonians 3:10
pray continually; (NIV) 1 Thessalonians 5:17
With this in mind, we constantly pray for you, that our God may count you worthy of his calling, and that by his power he may fulfill every good purpose of yours and every act prompted by your faith. (NIV) 2 Thessalonians 1:11
The early church modeled a lifestyle of prayer. What does your prayer life say to others?