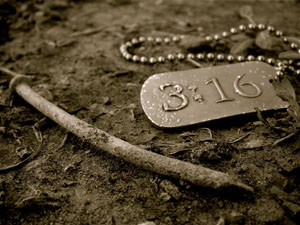 And you also were included in Christ when you heard the word of truth, the gospel of your salvation. Having believed, you were marked in him with a seal, the promised Holy Spirit, (NIV) Ephesians 1:13
The transaction of redemption is legitimized when Paul says in Ephesians 1:13 that believers are "sealed with the promised Holy Spirit" (RSV). (In Paul's time, a seal was used to confirm that an object or a document was genuine and/or to mark a thing as one's property.) The Holy Spirit is a deposit or payment of earnest money guaranteeing the inheritance promised by God. The Spirit is our down payment, the first installment made in advance, that secures the "legal" claim of our redemption.
When all seems lost. . . when it seems that God is silent. . . when it looks like God has disappeared. . . remember, God has not forsaken you. Jesus Christ died for you. The Holy Spirit secures God's payment in your relationship with Him. Read the Truth – cling to the Truth – and trust God!