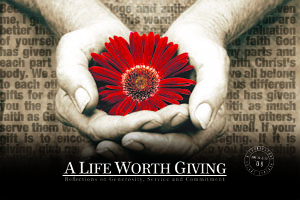 So when you give to the needy, do not announce it with trumpets, as the hypocrites do in the synagogues and on the streets, to be honored by men. I tell you the truth, they have received their reward in full. But when you give to the needy, do not let your left hand know what your right hand is doing, so that your giving may be in secret. Then your Father, who sees what is done in secret, will reward you. (NIV) Matthew 6:2-4
When we give there are at least 3 possibilities for our motives: 1) We want others to praise our actions, 2) We attempt to be anonymous in our giving, but secretly we're quite pleased with ourselves, 3) We desire for God alone to receive the congratulations.
When you give who gets the attention? Do you like to see your name on the list of givers? How many other people know what you give and who you give it to? Do you enjoy the attention that fundraisers give you? Do you feel that you "control" some organizations or churches because of what you give? How do you pride yourself with where you give and how much? Do you compare what you give to what others give? and do you think you're doing pretty fine? And lastly, how much would you give if it was guaranteed that only God would know? After all, in the scheme of things, He's the only One who matters!
Written by Marji "Mike" Kruger