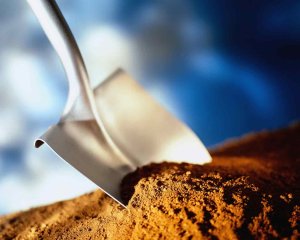 I will show you what he is like who comes to me and hears my words and puts them into practice. 48 He is like a man building a house, who dug down deep and laid the foundation on rock. When a flood came, the torrent struck that house but could not shake it, because it was well built. (NIV) Luke 6:47-48
Jesus is telling the crowds a parable (a brief story to make a spiritual point) about a man who not only hears God's Word, but also obeys it. He says: "I will show you what he is like who comes to me and hears my words and puts them into practice. He is like a man building a house, who dug down deep and laid the foundation on rock. When a flood came, the torrent struck that house but could not shake it, because it was well built. But the one who hears my words and does not put them into practice is like a man who built a house on the ground without a foundation. The moment the torrent struck that house, it collapsed and its destruction was complete." (NIV) Luke 6:47-49
In verse 48 we are told that the man "dug down deep" and "laid a foundation on the rock" both of these activities are essential if the builders want a house that will last a long time. . . and both are not only time-consuming, but also hard work. But, the hard work pays off! When the storm hits, the house stands! On the flip-side, the man who doesn't take the time, has his house destroyed when the torrent struck.
Comparing the parable to life, one man built his life on a solid foundation and weathered the difficulties that came his way. The other man built his life without a foundation and suffered the consequences. For us, we need to "work hard," "digging deep" into the Bible so that we have lives that are laid on the unchanging foundation of God's Word. It's hard work and time-consuming, but when the storms hit, you will weather the storm if you have invested time and energy into learning how God wants you to live. . . and then obeyed what He's told you to do!
Read through the Bible with us in a year! For more information.