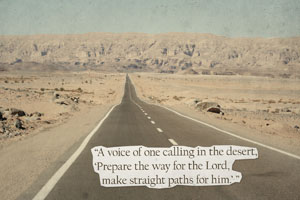 A voice of one calling: "In the desert prepare the way for the LORD; make straight in the wilderness a highway for our God. (NIV) Isaiah 40:3
Once Thanksgiving arrives at our home there's great anticipation of Christmas. There's the anticipation of . . . decorating the Christmas tree. . . new and old Christmas music. . . the entire family getting together and celebrating. . . Christmas Eve church service. . . and celebrating Jesus birthday on Christmas Day. And there's the strong anticipation of a different type of openness in friends and strangers to talk about Jesus Christ. We pray for individuals who don't have a relationship with God and especially during the Christmas season, we watch for opportunities to share with them how our relationship with Christ has changed our lives.
Before Jesus was born, the Jews were anticipating the coming of the Messiah. God had prophesied about it, the prophets had told the people to watch for Him, and the teachers and priests encouraged them to wait in anticipation of the coming King. And although some recognized Jesus as the Messiah, the majority did not. The anticipation was high, but they missed Him!
Who around you is looking for Jesus? They probably won't identify their search as "looking for the Savior," but they are nonetheless seeking after God. The search may be seen in their restlessness. . . the emptiness in their lives. . . their lack of contentment. . . the quest for feeling loved. . . their desire for identity. This Christmas, don't let them miss the Messiah! Point them to Jesus Christ. Tell them about how He has changed your life. You'll be amazed at how many are anticipating the "arrival" of Christ in their lives! Don't wait any longer, watch for someone today who is looking and longing for the love of God!