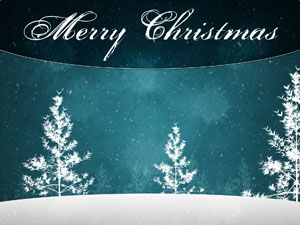 Christmas reminds us that God is the ultimate re-arranger of lives. God radically rearranged Mary's life when the angel, Gabriel, visited her. She probably was just entering her teen years. She was looking forward to marriage, to settling down, and to having children with Joseph. But, God had even greater plans for her. Gabriel told her that the Holy Spirit would come upon her, and the power of the Most High would overshadow her. "So the holy one to be born will be called the Son of God." (Luke 1:35)
Despite her potential fears, Mary was willing to accept the scorn of an accusatory society and an unbelieving nation. She knew that the penalty for an unmarried, pregnant woman in her culture was to be stoned to death. But, she allowed God to rearrange her life because she grasped the purposes and promises of God. Mary was full of faith, faith in the Mighty One who had done great things for her!
But, the greatest rearrangement of a life is seen in the birth of Jesus. The long-awaited day had finally arrived. The anticipation was high. The angels in heaven surrounding the throne stand in holy awe, for the time had come! Jesus, their beloved Creator, the One who created the angels is about to veil His glory, God's radiance, and take on human form. Incredibly, the Creator would take on the form of a creature!
An angel of the Lord appeared to a group of shepherds and said to them, "Do not be afraid. I bring you good news of great joy that will be for all the people. Today in the town of David a Savior has been born to you; he is Christ the Lord. This will be a sign to you: You will find a baby wrapped in cloths and lying in a manger." (Luke 2:9-12) Greatest of all surprises, the Messiah came as a baby! This long-expected Messiah was now cradled in a manger in Bethlehem. The angels suddenly broke out in praise saying, "Glory to God in the highest, and on earth peace to men on whom his favor rests." (Luke 2:14)
Their adulation is fitting. In Christ's birth the incomprehensible happened. The glorious Son of God forsook His splendor in heaven to become one hundred percent human, just as we are. He began His life as a baby. He was born into humble surroundings, completely dependent upon Mary and Joseph. He came down from heaven not to do His own will but to do the will of the Father who sent Him. And that baby grew up and lived out God's purpose before returning to His Father. "After he had provided purification for sins, he sat down at the right hand of the Majesty in heaven." (Hebrews 1:3) Jesus voluntarily allowed the Father to rearrange His "life" and He entered into our world. He did so to become our Savior.
My prayer for you this Christmas is that you experience the peace which transcends all understanding…peace from Jesus Himself, the One who is, who was and who is to come. May the God of Hope fill you with all joy and peace this Christmas as you trust in Him. May the Prince of Peace Himself give you peace at all times and in every way. Join me this Christmas season in worshiping our Mighty King, Jesus Christ!
Merry Christmas!
Marji "Mike" Kruger