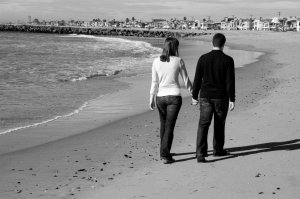 Yet I hold this against you: You have forsaken your first love. (NIV) Revelation 2:4
Jesus spoke the words above to the church of Ephesus. The church was doing a lot of good things. Jesus commended them for their hard work. . . their perseverance in their faith. . . their testing of those who claimed authority from God. . . their enduring of hardships for His name. . . and for not getting tired and giving up. But, the church had lost its first love – its first love for Him.
Do you remember when you first "fell in love" with Jesus? If you can't remember what it was like to fall in love with Jesus, do you remember what it felt like when you first were in love with your spouse? What was it like? Did you think of your love continually? Did you desire to spend all your time with your love? Getting to know Him better? Listening to what was on His heart? Was there a deep desire to please Him?
Does that first love for Christ still exist in your life today? Do you awake each morning looking forward to the time you get to spend with Him? Or are you simply going through the motions? Are you passionate in your desire to please Him? Is your service for Him an extension of your love? Or is it merely a duty you feel needs to be done? Do you talk about Him with others? Does just the thought of Him bring a smile to your face and put a joy in your heart? Are you still deeply in love with Jesus? If not, remember what it was like in the beginning, repent (confess your lack of love) and return to Him!