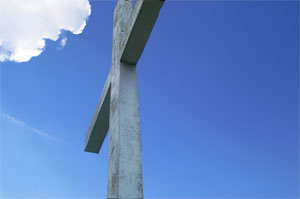 But we see Jesus, who was made a little lower than the angels, now crowned with glory and honor because he suffered death, so that by the grace of God he might taste death for everyone. (NIV) Hebrews 2:9
In the Old Testament, God graciously offered reconciliation between the Jews and Himself through the covenant Law. The levitical system of sacrifice was the provision God made to maintain fellowship with His people. The primary obligations for Israel under the old covenant, were to be loyal and obedient to God. These two responsibilities were to be expressed by exclusively worshiping God and Him alone.
The old covenant was broken almost as soon as it was established (Exodus 32) and continued to be broken throughout the history of the people of Israel. God honored His obligations to the people despite the fact that Israel persisted in rebelling against Him (Isaiah 1:5). Ignoring the prophets' pleas and threats of judgment, the people persisted in their disobedience. The old covenant needed to be replaced with a new covenant, one that man could not ruin.
God's new covenant was unveiled. It was not an agreement based upon merit or works, like the old plan, but one that was independent of external laws and human interpretations. Obedience no longer resulted from fear of God's wrath. Instead, obedience was a natural response to the incomprehensible love shown by God.
God sent Christ to earth to become the perfect sacrifice (Hebrews 2:9, 9:14). It was God's will that Jesus suffered and died on the cross. In Christ's death, He made the atonement for sin. The author of Hebrews quotes Jeremiah 31:31-34 in writing that God said, "For I will forgive their wickedness and will remember their sins no more" (Hebrews 8:12). Christ specifically came to earth so that He could die for mankind and thus provide a means of offering salvation.
How has the New Covenant impacted your life and faith?
Written by Marji "Mike" Kruger