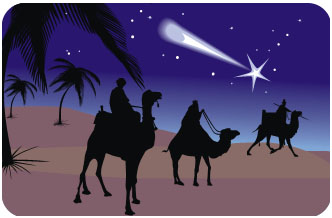 After Jesus was born in Bethlehem in Judea, during the time of King Herod, Magi from the east came to Jerusalem and asked, "Where is the one who has been born king of the Jews? We saw his star in the east and have come to worship him." (NIV) Matthew 2:1-2
The contrasts between the Magi from the east and the Jews of Jerusalem:
The Jews had the Old Testament prophecies (among others, Micah 5:2) from God – the Magi had a star
The "King" to be born was the "King of the Jews" – the Magi were Gentiles
The Jews only had to travel 7 miles from Jerusalem to Bethlehem – the Magi came from afar
The Jews did not bother to visit Jesus – the Magi did
The Jewish king, Herod, sought to kill Jesus (in the process, killing thousands of boys under 2 years of age) – the Magi came to worship Him, bearing expensive gifts
Which of the 2 groups do you most resemble? The group which has all the teaching from God, has the Bible readily available? or the group which is seeking after the little that God has revealed to them?
The group which doesn't have to "travel far" to meet with the King…Church is close by. . .radio and TV Bible teachers are in abundance. . .you have great books on increasing your faith are all around you. . .and yet you don't go to any great length to draw close to the King.
Or are you willing to go "out of your way" to spend time with the King. . .to be in His presence. . .to worship Him who is worthy of your worship?
Which group are you in?
Written by Marji "Mike" Kruger