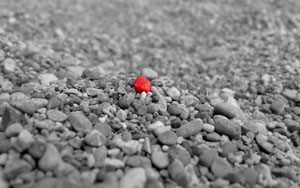 When Jesus reached the spot, he looked up and said to him, "Zacchaeus, come down immediately. I must stay at your house today." (NIV) Luke 19:5
Zacchaeus wanted to see Jesus and his desire overcomes 2 obstacles, the crowd and his own height. He runs ahead of the crowd. Can you imagine the site? Here's a little rich guy running ahead of the crowds. When he reaches the 30-40′ high tree, he climbs the short trunk and perches on 1 of the spreading branches. Evidently he did not worry about looking ridiculous!
Zacchaeus thought that he was seeking Jesus, when in fact Jesus was seeking him.  Jesus reaches the spot. He looks up and in the midst of many, Jesus sees one man.  He calls Zacchaeus by name. Jesus knew his name and his character. Jesus did not see who he was from the outside. . .God does not look at the things man looks at. "Man looks at the outward appearance, but the LORD looks at the heart" (1 Samuel 16:7). So what did Jesus see when He saw Zacchaeus?
** Jesus saw a man being held captive by his own sin
** He saw one who had been beaten down by the world. . .one who had been deceived by the promises of life
** Jesus saw a man who was dieing inside
As we go through life we often feel insignificant. But, one life does matter. Zacchaeus is one seemingly insignificant man who was noticed by God.
In the midst of this crowd Jesus sees you. He knows all about you…
** How you spent the day yesterday
** Your disappointments and the pain you've experienced, as well as your successes
** Your frustrations
** Your fears
** The decisions you are facing
** Your worries
He knows when
** You feel like giving up
** You are down
** You are happy
** He knows the answers to your questions
In the midst of many, Jesus sees one…YOU. And cares for YOU!