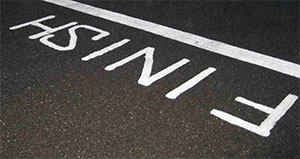 Therefore, since we are surrounded by such a great cloud of witnesses, let us throw off everything that hinders and the sin that so easily entangles, and let us run with perseverance the race marked out for us. Let us fix our eyes on Jesus, the author and perfecter of our faith, who for the joy set before him endured the cross, scorning its shame, and sat down at the right hand of the throne of God. Consider him who endured such opposition from sinful men, so that you will not grow weary and lose heart. (NIV) Hebrews 12:1-3
Once the author of Hebrews tells us how to run, he turns our focus to the finish line. We are to focus on the Finisher, Jesus. Why do we fix our focus on Him? Because He is the author and perfecter of our faith. The Author – the Originator, the Founder, the Leader, the First, the Beginning. He is the initiator of our faith. And He is the Perfecter – the Finisher, the One who reached the goal. He started it all and He finished His task. Jesus endured.
Where was Christ's focus? It was on His goal: first the cross, then the throne. The result was joy. Joy in knowing He was returning to His Father. Joy in defeating sin and death once and for all. Joy in knowing that someday we would live in eternity with Him!
We are told to consider Him, consider Jesus. Think about Him, meditate about Him, learn about Him, and seek after Him. So that when you grow weary, when you are tempted to lose heart and when you are exhausted in the middle of the race, you can focus on the finish when you meet Him face to face! The exhilaration will be greater than entering the Olympic stadium at the end of the marathon. . .the roar of the crowd will be deafening. . .there will be cheering and applause as Heaven expresses its approval.
So where is your focus? Fix your eyes on Jesus and race with long obedience in the same direction. . .until you reach the end. . .taking one step after another. . .running the race for an audience of One, Jesus!