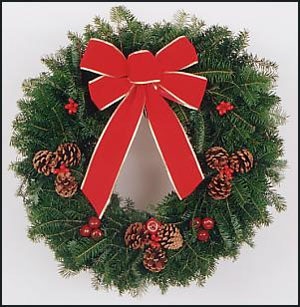 When Jesus spoke again to the people, he said, "I am the light of the world. Whoever follows me will never walk in darkness, but will have the light of life." (NIV) John 8:12
The Advent wreath is a Christmas symbol composed of a wreath of evergreen, shaped in a circle, with 3 purple and 1 rose or pink candle placed around the evergreen with a white candle placed in the middle of the wreath. Evergreens were an ancient symbol of immortality, life and growth, and the everlasting love of God. The shape of the wreath, a circle, symbolizes the unending eternity of God.
Each Sunday a different candle is lit. On the first, second and fourth Sundays, a purple candle is lit. The Rose candle is lit on the third Sunday symbolizing the joy surrounding the impending birth of Jesus. Traditionally on Christmas Eve the advent wreath in church will have a white candle in the middle, known as the Christ candle. White symbolizes purity and joy. When the 4 candles from the previous weeks are lit along with the Christ candle, it is symbolic of the coming of God's presence overcoming darkness in the world with the arrival of Christ the Messiah (Isaiah.9:2).
God sent His son Jesus to be a light to us. He provides the one and only way through the darkness of this world. He came to shine a light in the darkness and cause the evil things to be exposed, to scurry away and hide.
Who are you walking with? Are you still in the darkness? Do you want to walk in the light? Listen to Jesus. By faith believe that He is your Savior…for He is the one who said: "I am the light of the world. Whoever follows me will never walk in darkness, but will have the light of life." John 8:12